60 ml Joint Pain Back Ache Oil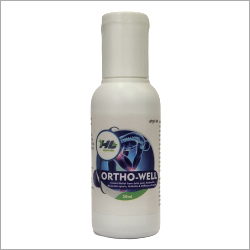 60 ml Joint Pain Back Ache Oil
Price And Quantity
Product Specifications
Product Description
We are involved in providing an outstanding array of 60 ml Joint Pain Back Ache Oil. It is manufactured in a large and wider space of production unit. This oil is used to give relief from joint paint and promote healthy muscles. Apart from this, provided oil is helpful to control stiffness in body. 60 ml Joint Pain Back Ache Oil has an anti-inflammatory properties to reduce swelling and inflammation.
Joint pain is known as Sandhi Shoola according to Ayurveda.
Causes include both internal and external factors. According to Ayurveda, joint & muscle pains are caused by the aggravation of Vata dosha (Air + Space biohumor). Ama associated with Vata quickly moves to different parts of the body and accumulates where circulation is sluggish or slow such as the hands, knees and other bone joints, filling the blood vessels with a waxy material. It is also more common in old age when Vata naturally increases in the body.
The other type of joint problem occurs due to Kapha dosha (bio-humor related to Earth and Water). Kapha governs the lubrication and structural aspects of the body. The heavy and cold qualities of Kapha affect the joints which feel stiff and dense. This kind of joint issue is commonly observed during cold, wet weather especially around spring (Kapha season). In time, the toxins (ama) mix with the natural lubricants in the joints to form a sticky, toxic substance that hampers mobility and upsets circulation. Finally, the structure of the joints and bones start to get damaged. Any changes in the morphology of the joints then the problem becomes more difficult to treat.
Enriched with: Salai guggul, Haldi, Capsicum, Pine, Sonth and many more
Provides instant relief from Joints pain, Backache, Muscular Sprain, Arthritis, Stiffness of Joints, Sciatica.
Relief in drying and swelling of joints.
Quick relief swollen joints and continuous pain even without movement.
Trade Information
Cash Advance (CA)

100 Per Day
Contact Us
Office No.-921, 9th Floor, Tower-B, I Thum Business Park, A-40, Sector-62, Noida, Uttar Pradesh, 201301, India
Phone :+918045804480