Ayurvedic Diabetes Juice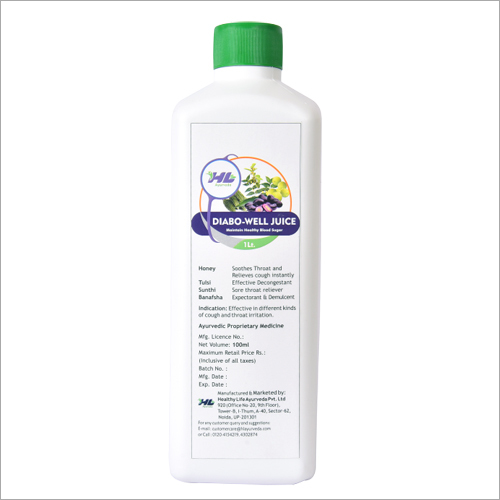 Ayurvedic Diabetes Juice
Product Description
Our firm is highly esteemed in bringing a wide stock of Ayurvedic Diabetes Juice. It is formulated with superlative quality of ingredients which are safe to consume without causing nays die effects. This juice is highly recommended to those people who are suffering from diabetic disorder. It is used to control a high blood sugar level. Ayurvedic Diabetes Juice is aid to increases the metabolic rate and reduce the cortisol levels. It also helps to avoid the intake of sweets.

Ayurveda, considers diabetes as a metabolic kapha type of disorder, in which decline in activity of agni can cause increase in blood sugar. According to Ayurveda, there are 24 forms of diabetes - 4 are caused by Vata dosha, 6 are caused by Pitta dosha, and 10 are attributable to Kapha dosha. In Ayurveda, diabetes is treated by using a multi-prong approach using diet modification, lifestyle changes, Pancha-karma and herbs.
Diabo-Well Capsule is not only a Medicine, but also a Rasayana. (Rejuvenate effect).
Stimulates liver that ensures terminal digestion and metabolism of sugar.
These natural herbs lower blood sugar and also work towards reducing the damaging effects of the disease.
Helps to regenerate beta-cells of the islets of Pancreas, increase the uptake of glucose by the cells, repair and regeneration lipid mechanism.
Size : 1 Litre
Contact Us
Office No.-921, 9th Floor, Tower-B, I Thum Business Park, A-40, Sector-62, Noida, Uttar Pradesh, 201301, India
Phone :+918045804480