Sickle cell Supplement Powder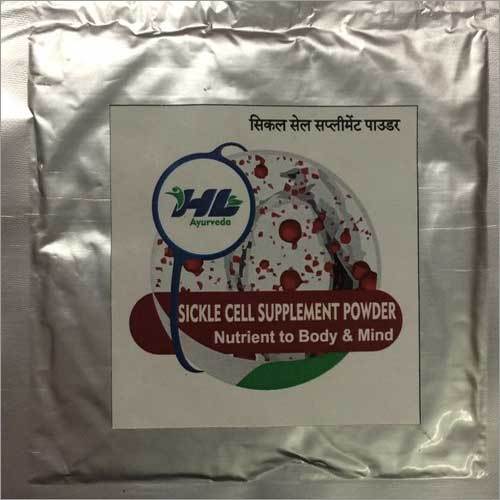 Sickle cell Supplement Powder
Product Description
Sickle cell disease (SCD) is a common, life-threatening genetic disorder that is best managed when diagnosed early.
However, it is most prevalent in low-resource regions of the world where screening is rare and diagnosis at the point-of-care is challenging.
Healthy life Ayurveda focusing on unique nutritional needs of Sickle cell Anaemia patients. We are the only one in India who developed a natural product that can prevent
complications and lengthen the lives of those who have these conditions.
Periodic episodes of pain, called crises, are a major symptom of sickle cell anemia. Pain develops when sickle-shaped red blood cells block blood flow through tiny blood vessels.
Pain can also occur in your bones.Low immunity hence risk of infection, Depression, delayed growth, Vision problems.
Hl Research team has developed Nutritional Supplements to manage illness with daily routine. After many years of trials.Sickle Cell Supplement Powder. Products are Rich in Iron , Calcium Zinc, Magnesium, Folate and Herbs to manage Pain and Swelling.
Contains Mainly:
Sesame Seed Powder Provide Calcium, Iron and folate
Milk Powder Provide calcium and energy
Ashwagandha Reduce Symptoms of Depression
Shatavari for vitamins and minerals e.g Folate etc
Wheat grass source of Zinc also contains approx. 20% of chlorophyll and as plant chlorophyll is similar to human which improve Hb in the patients.
Chopchini analgesic and anti-inflammatory
Anantmool remove the toxins from the body to promote healthy metabolism
Aconitum heterophyllum give relief in pain.
Smilax aristolochiaefolia is traditionally used to treat inflammation.
Pippali to increase the availability of all the nutrients.
Contact Us
Office No.-921, 9th Floor, Tower-B, I Thum Business Park, A-40, Sector-62, Noida, Uttar Pradesh, 201301, India
Phone :+918045804480